Best Balance Bikes for Kids 1-4 years old
Buying a balance bike for your child or grandchild is a huge decision. It is probably their first bike, which makes it super important to pick the right one. The truth is, if you get it right, a balance bike can be a great way to teach the child how to ride. Whether they are just starting off or struggling with their confidence, a balance bike can help.
Typically, balance bikes are simple, light, and super-easy to use. They usually don't have pedals or may sometimes come with detachable ones. Unlike regular bikes, balance bikes require a child to propel themselves using their legs. This is important as it teaches your baby to balance on two wheels and ride independently.
As long as the child has a safe space and plenty of positive encouragement, they will instinctively learn to balance themselves without a lot of parental help. This natural riding process forms an important foundation for kids to learn coordination, build muscle strength and develop their gross motor skills. And the icing on the cake is, balance bikes are good gifts for first birthdays for both toddlers and big kids!
So, nowadays, there is a lot of emphasis on using balance bikes to teach a child to ride. But why have they become such a popular choice?
Below, we'll look at some of the reasons why balance bikes have become all the rage. We shall also explore some awesome selections that make an excellent babys first bike.
Let's get started!
Reasons Why Balance Bikes Are One Of The Best Baby Toys
· They Are Easy To Use
Regular bikes require a child to master several skills including, balancing, pedaling, steering, and braking. Fortunately, balance bikes don't have conventional pedals available in regular bikes. This means that to "ride it," your child uses their feet to push themselves along the ground. Without the need to pedal the bike, your kid will quickly learn how to balance themselves.
When learned, that knack of keeping the bike upright and leaning into corners is easily transferred into a regular bike when they've built up their confidence.
Additionally, most balance bikes are designed with the needs of a child in mind. They have low frames so the baby can effortlessly reach the ground with their feet for balance. This lowers the center of gravity so the kid can learn to propel themselves forwards and balance at their own pace without the risk of falling.
· They Are Safer To Use
Unlike the conventional tricycle and trainer wheels, balance bikes have low seats that allow the kid to reach the ground. This gives them more control over their maneuver's speed and direction, making it hard to fall. Besides, since they are low, the impact of their fall would not be as bad as that of a regular bike.
Also, remember that balance bikes don't have pedals, which means that the child can hyper-focus on their balancing skills without pesky distractions. Intuitively, this prepares the child for any unexpected loss in balance, making it even harder for them to fall.
· Easy And Smooth Transition To A Pedal Bike
Balance bikes are uniquely designed to teach young ones how to balance and maneuver on various surfaces. These are essential skills for anyone who wants to ride a bike. Once a child has mastered gliding on a balance bike, they can easily transition to a pedal bike without the need for training wheels.
This is a huge milestone that significantly reduces the risks of bike falls. Why? Because they already know how to balance and understand what happens when they turn the handlebars. When they transition to a two-wheeler, they'll only be focusing on pedaling, which is pretty straightforward when they've aced other cycling skills.
· Gross Motor Skill Development
This is perhaps the main reason balance bikes reign supreme over other babys first bikes—parents are always on the lookout for baby toys that are developmentally appropriate for kids. Balance bikes are one of the best tools out there for helping kids develop their gross motor skills.
By naturally learning how to balance and coordinate their body, kids become better at self-regulation and injury prevention. They also develop core strength and endurance while still building a solid foundation for fine motor skills development.
· Great For Exercise
Medical experts recommend that children should be encouraged to have as much physical activity as possible. This allows them to develop mentally, physically, and socially. Fortunately, the balance bikes make exercising fun and enjoyable, allowing kids to burn off some of their never-ending energy. After a long day with the balance bike, you can expect your child to have a really good sleep.
Besides, the balance bike helps kids to learn critical problem-solving skills through turns, bumps, and more. In the end, your child will have acquired a new, exciting skill that opens the doors to a lifetime of camaraderie, skill-building, team bonding, and entertainment
· Exposure To The Outdoors
Today, many parents go through a lot of struggle trying to get their baby's off the TV. It's, therefore, no surprise that only a few children get outdoors to explore nature. As a result, we see more kids struggling with a wide range of behavioral and emotional problems.
Luckily, a good balance bike can get your kid off the couch because they are fun and enjoyable to ride. A well-designed balance bike can not only glide on the driveway but can also be ridden on the grass at the park or even on your favorite hiking trail. This is a superb way to get your kid outdoors!
Choosing the Right Balance Bike
If you are looking for developmentally appropriate, fun, and active gifts for the first birthday of your child, you really can't beat a balance bike. These baby toys are perfect for toddlers, preschoolers, and big kids who are not yet confident to take the plunge on two wheels.
If you want your child to reap the benefits of a balance bike truly, you first need to set them up for success with the right bike. But with so many balance bikes on the market these days, finding the right fit for your kid may feel like an arduous task.
Don't fret, though! We've listed a few of our favorite picks for balance bikes below to help you make an informed decision like the savvy-shopper you are:
1. Baby Balance Bike For 1-2 Years
The Baby Balance Bike For 1-2 Years is carefully adapted to suit baby's tiny hands and bodies. It has a light, modular design with no sharp edges for the ultimate safety of your child. This bike's modular frame can be easily assembled in less than 3 minutes without the need for tools.
Features:
    · Excellent for building balance and confidence
    · Child and environmental friendly handlebar and wheel materials
    · Easy to assemble
2. Toddler Balance Bike 1-4 Years
The Toddler Balance Bike 1-4 Years is a perfect ride-on toy that will teach your child to push with their feet while still maintaining balance when sited. It has an ergonomic seat designed to absorb shock even when riding on rough surfaces and readjust as the kid grows.
The Toddler Balance Bike 1-4 Years has low minimum seat height and low step-through ideal for young riders. This bike comes packed in a beautiful box which is why many parents and grandparents recommend it as an excellent gifts for first birthday.
Features:
    · Detachable pedals to allow kids to learn balancing and steering skills
    · Adjustable seat height to allow use as the child grows
    · Detachable trainer wheels so the bike can quickly transform into a two-wheeled balance bike.
    · Anti-slip handlebars that fit seamlessly into kids' hands.
    As it is suitable for up to four years old, your little one can ride this tricycle for a long time. You do not need to replace it soon. It features detachable pedals, an adjustable seat, and non-slip handlebars.
Features:
All-in-one solution for toddlers of different ages
Comfortable and safe riding
The foldable design ensures easy storage
Adjustable seat height
Five steps easy assembly
4. 3-in-1 Toddler Tricycle 2-4 Years
If your child has already learned how to walk and run, we recommend getting them the 3-in-1 Toddler Tricycle 2-4 Years. This tricycle toddler bike features innovative stabilizing wheels that provide a larger surface area, allowing for more stability. This bike will help your kid gain more confidence, balance, and paddling skills before they can transit to a regular two-wheeler.
The bike's unique design is hyper-focused on helping younger children learn to ride at their own pace.
Some of the cool features in this tricycle toddler bike include:
· A modular 3-in-1 tricycle design ideal for different ages
· Excellent foldable design that can quickly transform into a stroller
· Detachable pedals to allow your child to focus on balance, coordination, and corner maneuvers
· Adjustable seat height ideal for young and older kids
5. Baby Balance Bike-Dog
The Baby Balance Bike-Dog is a uniquely designed baby toy ideal for toddlers who've just started walking. This balance bike is one of the most favorite gifts for first birthday since it helps babies learn how to walk, ride, balance, and steer.
Its handlebars have intuitive 135-degree steering to reduce the baby's risk of falling sideways, which makes the bike-dog safer than a regular bike. It has non-slip, non-vibration, wear resistance tires that makes it a perfect babys first bike for indoor and outdoor use.
Some of its outstanding features include:
· Works as a walker and bike
· Baby-friendly design with super cute animal themes
· Lightweight weighing only at 3.5 pounds
· Fully enclosed wheels to avoid clamping baby's feet
· Sturdy build with durable materials
· Sufficiently strong to handle up to 40 KGs
· Steering lock that enhances safety and reduces side falls
· High-Density silent wheels for a genuinely noiseless, non-destructive experience even on wooden floors
· Fully certified
Fresh newly designed in 2021 based on hundreds of feedbacks from our millions of customers all over the world. Compare to the old balance bikes for 1 year olds, this one is fully upgraded with a larger size, an adjustable seat and a non-slip handlebar that can't be bite off. The cute looking and metallic feeling is even more attractive to toddlers. Great gift choice for babies who are learning balancing, cycling and running.
· Suitable for 1-4 years old kids. Upgrade with a larger size, an adjustable seat, and a non-slip handlebar that can't be bitten off. The new appearance with lovely & colorful pattern is more attractive to children.
Some of its outstanding features include:
· Material: Carbon Steel Frame, Rubber Handlebar, PU Leather Seat and EVA Wheels.
· Product Size: 17.5"x24.4"x16.7"
· Handlebar Width: 10.7"
· Adjustable Seat Height(from ground): 11.4" - 15.2"
· Weight Capacity: 44 lbs
· Product Weight: 7.7 lbs
· Adjustable Handlebar Angle: -90° to +35°
· Recommend Age Range: 10 months to 36 months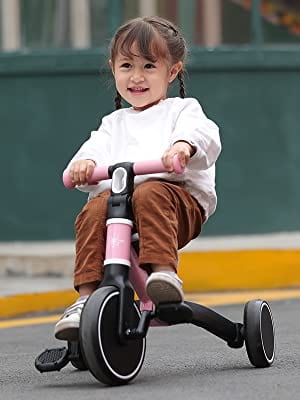 Conclusion
Balance bikes are an excellent way to teach your child how to balance, steer and maneuver through obstacles from a very young age. These baby toys will improve your child's outdoor activity, allowing them to grow physically, mentally, socially, and cognitively.
When shopping for a balance bike, be sure to explore different designs and their features to get the perfect fit for your child. Remember, balance bikes are not one-size-fits-all. So, size, wheel type, weight, serviceability, and cost factors should be top on your list when choosing a balance bike for your child.