1 Year Old Baby Boy Girls Gifts Idea
Finding the perfect gift for your 1-year-old baby can be overwhelming. At one year old, your kid is now all bubbly, and their curiosity has incredibly grown. They are now starting to grow out of crinkly and rattly baby toys and want stimulating toys with some more character.
Here's the thing…after the first birthday, your baby will start trying to master basic skills such as walking, running, kicking, jumping, pedaling, and more. And although this means that your toddler is becoming harder and harder to keep up with, these physical milestones are an important part of their development.
To promote and reinforce these cognitive and gross motor skills, you'll need to get them an appropriate 1 year baby boy girl birthday gift that will remain relevant even as they grow older. Now, this is where most parents find difficulties. Looking through various online stores, you'll find hundreds of toys categorized for 1 and 2-year-olds. But, really, most of these toys may not be the ideal first birthday gift for your baby. First, because they may have small parts that pose choking hazards or have dicey marketing claims that really don't make sense. What to do? 
Well, we have a solution.
In this guide, you'll find a roundup of some excellent toys that help kids stay active, strengthen their muscles and develop their gross motor skills, all from the comforts of their own home. These toys are insanely fun, easy to use, and have extended use, giving you the best value for money.
Each of the products featured below has been independently selected and reviewed by our team. What's more, we can attest to countless reports of stellar nap times and breezy bedtimes thanks to these toys. So next time you're invited to a 1-year-old birthday party, family get-together, or any other present-giving occasion, check some of these top-pick, must-have toys and feel confident in your choices. The thing about this all-inclusive list is that it's specially curated for that sweet spot between ages 12-18 months when the toddler is all bubbly and bursting with energy.
Read on to learn more about our highly recommended presents for first birthdays.
Baby Balance Bike-Dog
After the 1st birthday, your young one will start working on their leg muscle strength. They are now nimble enough to propel themselves forward while controlling speed. The Baby Balance Bike-Dog is a perfect 1 year baby boy girl birthday gift that will help your baby learn to ride a bike.
This beautifully designed entry-level balance bike is sturdy and has the right number of wheels to provide ample support for your baby. In addition, it comes in a fun and vibrant color and gets bonus points for the cute, doggie-shaped handlebars.
The Baby Balance Bike-Dog has environmentally friendly handlebars for easy steering, helping your child develop their motor skills while having great fun. This lightweight balance bike is ergonomically designed for comfort and balance. Fitted with silent, non-destructive tires, this bike is ideal for indoor and outdoor riding, ensuring that your little one explores their environment with ease throughout the year.
 This bike has a 130 degrees steering limiter, preventing the baby from falling off or hurting themselves with the handlebars. This bike has a uniquely designed carbon steel frame structure that's sturdy, durable, and easy to assemble.
This unique balance bike has a low-to-the-ground design that makes sure that your kid can touch the ground at all times, which helps build confidence as they learn how to balance and propel themselves.
We know that safety is paramount and a huge consideration for most parents. This bike is designed with enclosed wheels to avoid pinching the baby's feet. All parts are made to fit seamlessly, leaving no open or loose ends that can pinch or fall off.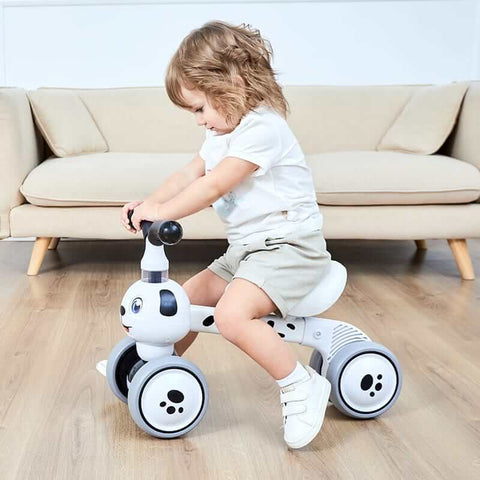 Baby Balance Bike For 1-2 Years
 Looking for a pedal-less balance bike that your 1 or 2-year-old will have fun riding? The Baby Balance Bike For 1-2 Years is an excellent first birthday gift for a baby within this age bracket. After the 1st birthday, your child's riding abilities are not yet developed, so they need a lightweight bike that's easy to push around while seated on the saddle. This balance bike is the best bet for developing coordination and making the transition to riding a traditional 2-wheel pedal bike a breeze.
The Baby Balance Bike For 1-2 Years is made of premium grade, child-safe components that will last for years. Its carbon steel frame structure is safe, sturdy, and durable. It features an ergonomic design with enclosed wheels to avoid pinching the baby's feet and no open spots or bolts where their little fingers can get stuck. It comes in a range of brilliant colors, including pink, blue, orange, and yellow, making it a good fit for 1 year baby boy or girl birthday gift.
This compact balance bike has a turn limiter that prevents the handlebars from turning beyond 135 degrees, so your little one won't topple over. Its low ground clearance ensures that most kids can reach the ground so they can easily move around. The low saddle design also ensures that they won't get hurt even if your child falls off to the ground. We have no doubt your baby will be off and running in no time on this adorable Baby Balance Bike For 1-2 Years.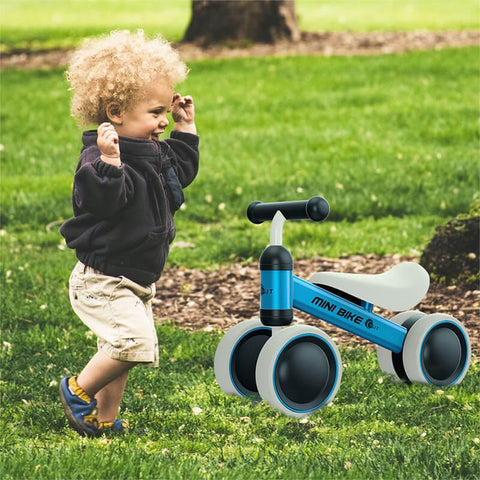 Toddler Balance Bike 1-4 Years
 The Toddler Balance Bike 1-4 Years comes highly recommended because of its smart design that grows with your child and their riding skills. This balance bike features an ergonomically designed saddle and handlebar that is easy to adjust as your child grows. This bike also has detachable training wheels that can be set backward for more comfort and support.
As your child gets the hang of it, you can easily remove the training wheels, making it a two-wheeler that will help improve your child's balance and riding skills. The good thing is, you can always re-attach the training wheels without frills if your child isn't confident enough to use a two-wheeler.
The Toddler Balance Bike 1-4 Years has a lightweight, unique U-shaped carbon steel body frame that's comfortable and easy for the young rider to manage. In addition, it features anti-slip handlebars and EVA foam tires for elevated comfort and a smooth-riding experience, even on rough surfaces.
This balance bike also comes in 2 cute pink and blue colors, making it an ideal first birthday gift for a baby between 1 and 4 years. It has a sufficient weight recommendation of up to 70 pounds.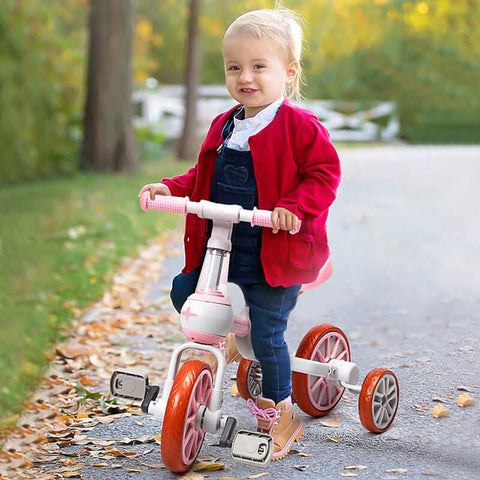 The Bottomline
These balance bikes are fun, and that should be enough for any parent to consider having one for their child. If you are looking for an exciting 1 year baby boy girl birthday gift, these bikes are an excellent choice and a great addition to your child's first years.