Water Play Toys For Toddlers
Many clients are enticed to acquire water play toys for toddlers. Water-play toys with superior features and benefits, such as a kiddie pool and a Water Floating Basketball Hoop, captivate children to the core. These toys provide children with mind-boggling delight and distinct benefits. Let's take a closer look at the toys' functions and advantages.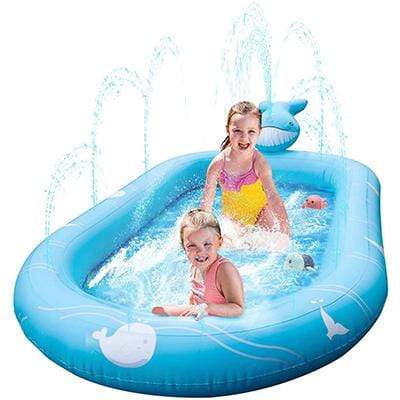 1. Kiddie pool
Do you want to build a sprinkler pool in your backyard for your children to enjoy this summer? If this is the case, you may simply construct a kiddie pool in a matter of minutes. Unfold the pool material and fill it with air using an existing air pump. The setup may then be connected to the hose. It's a lot of fun to do with your kids to get through the summer. This arrangement adds to your kids' amusement without requiring them to go to the beach. This kiddie pool arrangement is large enough for your children and their friends to enjoy the summer together.
What are the main characteristics of the kiddie pool?
The kiddie pool is safe and substantial to ensure your children's comfort and delight. This is constructed of PVC material and will last a long time according to your needs and expectations. This long-lasting substance is non-toxic and BPA-free. These advantages persuade a buyer like you to purchase it without hesitation. Yes, your kids can enjoy themselves without any worries about harmful chemicals.
Compatible for kids
The pool dimensions are compatible with adequate space and fit. The measures are extensive, allowing children to play freely and without limitation. The product is suitable for four children maximum if they play together. This big splash pool size after full inflation provides a one-of-a-kind experience for your adorable children.
The comprehensive benefit of the pool
The water splash pool can store water up to 6" deep. It is a significant benefit to your expectations that your children will utilize it as a pool for an extended period of time. This kiddie pool or sprinkler whale spray water increases the worth of your buy. This splash pad is suitable for your children's needs. As a result, it is believed to have updated three-in-one functions to meet your needs.
Suitability
This kiddie pool is appropriate for children aged three and above.
Benefits
Your children may use their time productively rather than engage in pointless activities. Yes, kids may have fun intellectually by burning calories that keep them fit and healthy. This water game in the kiddie pool improves their concentration and helps them focus on their studies. Yes, their minds become more alert, allowing them to learn subjects more easily than before.
Many kids like playing kiddie pool activities because it gives them more energy and helps them cope with loneliness. The kiddie pool's air leak-proof valve adds to your children's enjoyment. The product is well sealed to prevent any water from leaking out. Enhanced air leak-proof valve: Each layer of air-bag has an upgraded leak-proof valve that is tightly sealed to prevent air leaking.
The thick bottomed design protects your child from falling while swimming.
Last words
This kiddie pool is a fantastic birthday or another special occasion present for your children. A timeless present, especially for the summer holidays. This toy may provide both children and adults with hours of pleasure and delight throughout the hot summer months. This low-cost toy exceeds your expectations throughout the hot summer months.
2. Pool Basketball Hoop
One of your children's basic pleasures in the summer is an amusing and intriguing splashing and swimming activity. Yes, the addition of a pool basketball hoop game doubles your child's fun. The hoops are simple to put in your pool. The pool Basketball hoop setup includes a hoop, a ball, and a pump. It delivers the entertainment your child requires and is as strong as you would expect. Yes, it is a simple setup for your requirement.
In the hot summer, you may bring the basketball game that your child needs to your pool. The strong and robust structure ensures that you have the greatest fun in the water.
What are the important features of Pool Basketball Hoop?
The hoop arrangement is lightweight enough that your child may easily carry it. It is fully portable and takes up very little room when the pieces have been dismantled. This floating pool hoop takes very little storage space while keeping you comfortable and calm. When traveling a long distance, you may also bring the hoop set up. This adaptable and practical hoop arrangement.
Installation efforts not required
You need not spend time and effort to install the hoop or assemble it in the pool. You do not require to re-inflate it again and again like other poolside hoops. Yes, it takes only a few seconds to get installed or assembled. The whole setup is simple and involves less complexity.
What does the package include for you?
Following are the major materials included in the pack that you receive.
1 x floating pool hoop
2 x 6.5" balls
1 x air pump
What is the benefit of Pool Basketball Hoop?
An entirely easy product to use and arrange
It is sturdy and does not flip over on the water
Your kids can have a lot of fun in the hot summer.
It is of high quality and hence durable.
Engineered well to withstand the splashing that comes with water basketball.
Kids can have maximum fun
It is a perfect play kit for both in-ground and above-ground pools.
Not only kids, but adults can play
Final thoughts
You may refer this product to your friends because it is safe and easy to use. Yes, this high-quality and engaging Pool Basketball Hoop product not only entertains your family members, especially children but also boosts their energy and attitude. It is a fantastic water play item for toddlers who want to stay active and have fun during the hot summer months. You can present this set up as a gift to your dear ones in your house.