Best ride on toys for toddlers
Ride on toys for toddlers are designed to get the wiggles out of the little ones and fuel their imaginations. Aside from giving hours of entertainment, these toys improve coordination and enhance motor skills. But with tons of picks out there, choosing the perfect toys can be an overwhelming experience. If you're looking for something to entertain your adventurous toddler, you've come to the right place. Here are the best ride-on toys for your adventurous toddler.
How ride-on toys benefit the children
If you learned to ride a bike in the '90s, you took the standard progression. The obvious benefit of a balance bike is that it helps a toddler develop balance and minimize the danger of riding. Plus, your kid will make a seamless transition to the pedal pushing bike. Here are the reasons you should introduce your kids to ride on toys.
Improve gross motor skills
Most ride on toys for 1 year old require the child to use the hands and legs to pedal and pull. With time, they learn how to control body movements. They also master how to steer and move in a coordinated way.
While there's a huge selection of ride-on toys, a balance bike involves full-body movements. The kids will use the legs for momentum, while the upper body will help to steer and balance. Of course, those small movements like gripping the hand bars help to develop fine motor skills.
Builds self-confidence
While it's recommended that you keep an eye on your kid all the time, you should allow them to build confidence. Since a baby balance bike seat is closer to the ground, the little ones won't fall. Kids can use their feet to steer forward. Best of all, you don't expect the kid to get in high-speed crashes. After your kid learns how to balance, he can move to a regular bike with ease.
At first, you can guide the kid to move the toy. Then, he will learn to operate on his own. After a few rides, the kids will learn how to analyze the situation and make decisions alone.
Improves spatial awareness
A ride-on toy help kids learn about their environment and improve spatial awareness. After they get used to the toy, they will master how to maneuver the terrain and enjoy a smooth ride.
Encourages physical exercise
If your kids like to spend most of the time on the screen, you should encourage them to get outdoors. The best way to achieve this is by getting a ride-on toy that suits their age. A baby balance bike will help the little ones move their legs and engage the core. In addition, the body builds strength and prepares them for big toys. As your kids enjoy themselves outside, you'll be surprised they can cover more distance compared to walking.
When you encourage your kids to get off the couch, they get positive stimulation from their natural surroundings.
Nurtures social and emotional development
When you buy a ride-on toy or your kid, you encourage interaction with other kids. You want your little buddy to make new friends, which is good for social development. Still, the kids will learn to cooperate, and this is something they can continue with as they get older.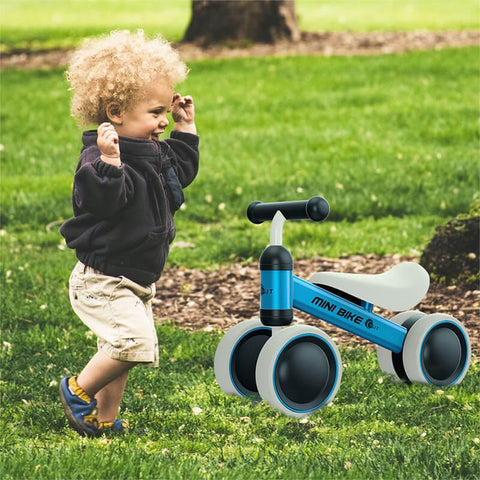 Baby Balance Bike for 1-2 Years
The Baby Balance Bike is suited for babies aged 10 to 24 months. It helps toddlers develop motor skills that will help them eventually ride.
The frame is made of a premium-grade carbon steel frame to ensure durability. In addition, it comes with a low seat and handlebars for the little fingers. And because there are no pedals, the rider pushes forward and backward. The foot is the main tool for braking.
Another impressive feature is the enclosed wheels. This prevents the nuts and bolts from pinching the baby's feet. That's not all. This bike limits the turns to 135 degrees, so your kid won't fall off the ground. For smaller babies, you can adjust the handlebars to 45 degrees. This design can suit different heights and ages.
Anti-skid and noiseless wheels
The long-lasting EVA wheels can be widened to prevent slipperiness, giving the rider more control. It works well on different surfaces including, wooden and carpet floors.
This adorable toy features a low ground clearance, so the toddler will touch the ground without getting hurt. As a bonus, it's available in pink, orange, blue, and yellow colors.
Keep in mind that this product has passed the CPSC certification and complies with CE and ASMT standards. It weighs 4.84 pounds to accommodate the little hands.
Grow your kids with happiness
This product makes your baby eager to walk, stand up, and run. It's also the best way to show love to your child.
Makes riding a lot of fun
This balance bike will not only keep the little ones on the move but also brings lots of fun. Your toddler will love zooming or even join the family for a family ride.
Unlike comparable models, this bike stimulates your kid's athletic performance and coordination of the body. It's one of the best gifts for 1 year old (baby boys and girls).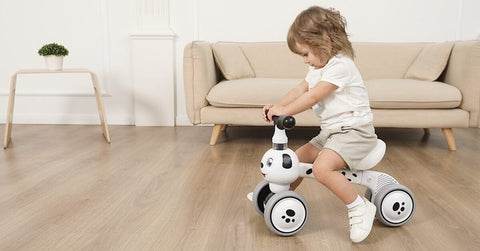 Baby Balance Bike Dog
This bike features a unique patent design and is the perfect gift for first-time riders. It helps babies learn how to balance, walk, and steer. This product is suitable for 1 to 3-year-olds and comes with an intuitive steering handle. Also, it has a non-slip and wear-resistant handle. This is what makes it ideal for outdoor and indoor use. The carbon steel material frame ensures durability.
No-pedal design
Other features that make this balance bike unique are the no-pedal design and fully enclosed wheels. This helps your kid develop the core skills like balance and coordination.
To move forward, the kid should walk the bike. With time, he will learn how to glide along independently, master the balancing, and finally get the feet off the ground.
Steering limit
The handlebars have 135-degree steering, which prevents the baby from falling sideways. Your toddler will learn how to ride forward and back with their feet and gain confidence.
The ease of setting up also makes the Baby Balance Bike Dog one of the best ride on toys for 1 year old.
Lightweight
This bike is easy to maneuver on tender hands. Your kid will enjoy the ride without the fear of falling or getting injured.
Exercise at an early age
Since the rider uses the legs to thrust against the ground, he can gain stability when walking. It also helps the babies gain self-confidence.
With this model, you stimulate the kid's athletic talent, balance, and coordination of the body. It's the best way to bring happiness to your baby.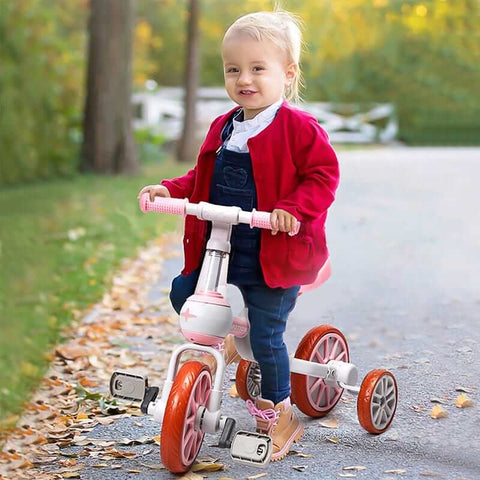 3-in-1 toddler tricycle for 1-4 years
The 3-in-1 Toddler Tricycle is designed to give your kid the best ride. It offers comfort, convenience, and fun. It's suitable for 1 to 4-year-olds and comes packed in a beautiful box.
Design
This tricycle features stainless steel construction, so your child will enjoy the ride for many years to come. The ergonomic seat is designed to absorb shock when riding on rough surfaces. Another interesting feature is the U-design and widened wheels. Since they are maintenance-free, you don't have to worry about the risk of getting a puncture.
The 3-in-1 toddler tricycle is designed to minimize the danger of riding - you won't have to run behind the kid. Not to mention, it's strong enough to accommodate loads of 70 pounds.
This product will meet the different needs of your child's growth. For instance, the training wheel is suitable for babies below two years. If your kid is 2-4 years, you can attach the pedal for early cycling fun. The up and down movement will help the kid shift the body weight from side to side, and this is how they learn to balance.
Easy to assemble
This baby bike comes with a handlebar that can be installed within minutes. Unlike other tricycles, the adjustable bars are suitable for a growing baby.
Fully enclosed wheel
The fully enclosed wheel prevents clamping on the baby's feet. All the parts have passed safety ratings.
Best way to skip the training wheels
A balance bike teaches your child to ride and balance. For this tricycle, you should find an open space free from obstacles. Then, set the saddle height such that the child's feet are on the ground. You can even give them a gentle push and see how they will control the bike. Once they have mastered the skill, they will be itching to ride in no time. 
The 3-in-1 Kids Tricycle is available in blue and pink colors, so you can choose the one that suits you best.
Final thoughts
Toddlers are quite active, so having a ride on toys will keep them busy. As a parent, there's nothing more fulfilling than seeing a toddler accomplish just about anything.
While balance bikes have become the new craze among kid toys, they help children learn to ride at a young age and apply the skills as they get older. The above ride-on toys will not only enhance their imagination but also give them a sense of freedom that satisfies their adventure.