Animal-shaped personalized balance bike
If you're a parent to a toddler, you must have seen balance bikes in your neighborhood. They are a popular choice for first-time riders as they prepare the child for independent riding. In addition, they feature a pedal-free design to help the little ones focus on momentum rather than pedaling. Here is our pick on the best balance bike for kids.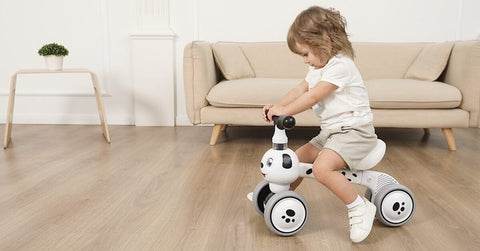 Baby Balance Bike-Dog
This baby bike is designed to help toddlers balance and make the first steps while sitting over the saddle. It's the perfect gift for 1, 2, and 3-year old babies who want to learn how to balance, walk, and ride. Because they glide with the feet lifted, your kids can build confidence and coordination early.
Since there are no pedals, your baby uses the hands and legs to steer forward. This product complies with ASTM and CE standards and has passed the CPSC certification.
Features 
Sturdy construction
The frame is made of carbon steel to ensure durability, while the handlebars are made of environmentally-friendly EVA material. This toy is not only adorable but also has rock-solid integrity. 
Safe steering limit design
The handlebars have intuitive steering to reduce the risk of falling sideways. For this model, the 135-degree steering limit guarantees the safety of your baby. 
Fully enclosed and non-slip wheels
The wheels are designed to avoid pinching the baby's feet. They are non-slip and wear-resistance, thus perfect for outdoor use. Your kid will have fun riding on carpets, wooden floors, and pavements.
Soft and supportive PU seat
The curved seat makes the baby feel soft and comfortable. Because it's positioned at a lower level, it can suit babies of different heights. The minimum requirement for the baby's leg length is 12 inches. As he grows, it becomes easier to ride comfortably.
Easy to setup
It takes about 1-2 minutes to set up the bike. This bike comes with manual and picture instructions and is backed by a three-year warranty.
Advantages and benefits
Balance is an important skill that helps your baby build strength and motor skills. Moreover, it allows the kid to develop coordination and agility. This is the best baby gift personalized to make your little buddy feel happier and more confident. With the parents' companion, kids can build a self-confident character. Overall, this is a decent purchase and worth the money. 
Pros
Helps to develop kids balance
It comes with a generous warranty

Balance Bike (10-36 months) – Bee
This balance bike is visually-appealing and ensures your kid enjoys a happy childhood. It's designed for 1-3-year olds or babies learning to ride for the first time. Your baby will gain confidence at a young age. The brand is committed to bringing more fun to your child and complies with ASTM and CE standards.
Features
Design
This bike is made of a sturdy carbon steel structure and a non-slip handle. It comes with a fully enclosed wheel design to ensure the safety of the baby. Furthermore, the saddle-style design prevents the baby from learning back. This balance bike measures 21.6" by 9.8" by 15.8" and can support different weights.
Limited 135-degree rotation
The 135-limited baby turn ensures the baby doesn't roll over – he can use it with confidence. Both the right and left steering are safe, so you don't expect accidental falls.
Lightweight design
This balance bike for kids weighs 3.5 pounds, enough to support 1-3-year old kids. It's also convenient to take on a trip.
Four wheels
The EVA wheels enhance stability and a comfortable ride. Your little buddy will have fun riding on different surfaces.
Easy to install 
The balance bike is easy and fast to assemble, so you just put your accessories together. There are no tools or accessories required to complete the installation. This product comes with detailed instructions to help you get started.
Benefits
The balance bike is relatively simple to learn. It helps the baby find balance with the feet on the ground.
Your baby will gain confidence at an early age.
Pros
It guarantees a smooth and quiet ride
The wheels are steady for toddlers
Cons 
This is the best birthday, Christmas, or Thanksgiving gift for one-year-olds.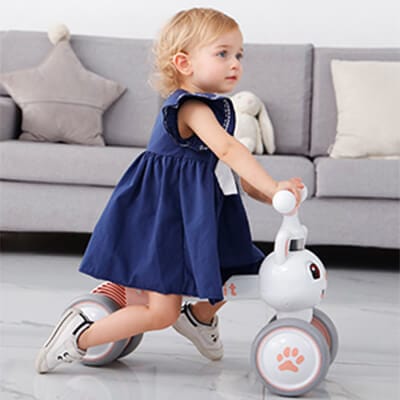 Balance Bike (10-36 months) – Rabbit
This is the best balance bike for kids designed to help your little one ride with confidence. It teaches your kid to develop balance and coordination. It's recommended for kids aged 10-36 months.
Features
Design
The rabbit baby bike is made of a carbon steel frame, and the wheels feature an eco-friendly EVA material. It's suitable for kids 26-35 inches (height) and can accommodate 50 lbs. You don't have to worry about the replacement parts – your baby will outgrow it before it wears out. 
Steering limit
This balance bike features a 135-degree limit. You can be sure your baby won't tip over.
Soft seat
The seat is designed to give your kid a different experience. You can have peace of mind when guiding your little buddy.
Easy to assemble
It takes two minutes to assemble. This is a fun activity for the little ones and adults alike.
Benefits
This is the best balance bike for 2 year old kids. It will encourage them to get out and start exercising. With time, they will develop healthy habits for riding. The Panda makes playtime exciting by allowing the kids to explore indoors and outdoors.
This bike will provide an easy and comfortable riding experience. It will also help your kid in skill development.
The Panda is a good choice for kids who want to learn to walk.
Pros
It's sturdy, durable, and adorable
The seat is smooth, and the handlebars are well built
It helps kids to gain confidence at an early age
It comes with non-slip enclosed wheels
Cons
The seat is not adjustable
Wrap up
The above balance bikes will teach your kids to balance and steer with confidence. They can go as fast as the child can push and feature a 135-degree steering design. This means that you don't have to worry about high-speed crashes. Of course, the balance bikes foster parent-child bonding, so you can find something to do together.