Best baby ride on toys for your toddler
Are you looking for the best ride toys for your baby? Do you want a safe and durable bike? If yes, you are in the right place. While buying toys for toddlers, you will have to be extra careful. If you are a first-time parent, you might be taking all the measures to ensure the safety of your little one. At the same time, you might be buying new toys to stimulate the body and mind of your baby. Also, you can find a suitable balance bike for 1 2 3 4 year old. You will have to ensure that the toy has toddler-friendly features. Toddler-friendly features mean it can support your baby's balance and make the ride safe and smooth.
If you get a suitable baby ride on toys for 1 2 3 4 year old, your little one can grow fast. You can see the difference within a few weeks. In the following, we will cover the top three ride toys for toddlers. You can go through the features and benefits to find the most suitable one.
1. Baby Balance Bike For 1-2 Year old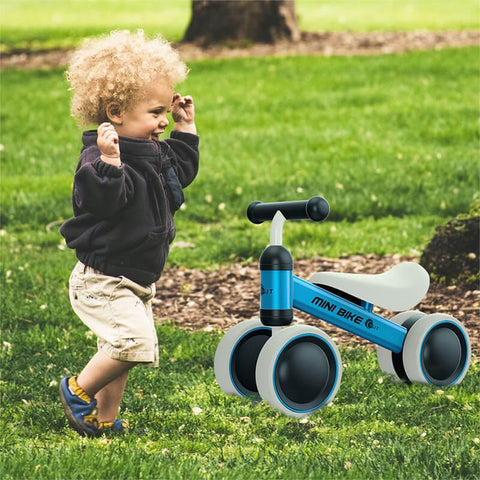 If you are looking for the best balance bike for your one-year toddler, you can think of going with this one. This bike comes with many toddler-friendly features to create a safe environment for your little one. Also, the premium construction ensures durable use. The sturdy frame will give the desired comfort and stability to your baby. Besides, there are enclosed wheels and ergonomic design to offer the needed support. There will not be any open bolts and spots. As a result, your baby can safely ride and explore the surrounding. Additionally, this toddler balance bike is available in many colors. You can choose any that complements other decors of your kid's room.
Also, the bike features a turn limiter that means the handlebar will not turn more than 135 degrees. Also, this toy bike has low ground clearance to make it easy for all toddlers to access it conveniently. Toddlers can ride the bike and move around without injuring themselves. Another worth considering feature is the low saddle design. It will keep your child safe even if she falls off accidentally. You can use this bike for your baby. Also, you can present it to someone. Every toddler would love to have this bike. Also, it will inspire young toddlers to do more physical activities. They will be more active and enjoy the surrounding with their curious mind. The weight of the bike is 4.84 pounds.
Pros
Best for kids between one and two years

135-degree rotation to protect your toddler from falling down

Safe and environmental-friendly material

Sturdy and durable

Complies CE and ASTM standards

Minimal assembly requirements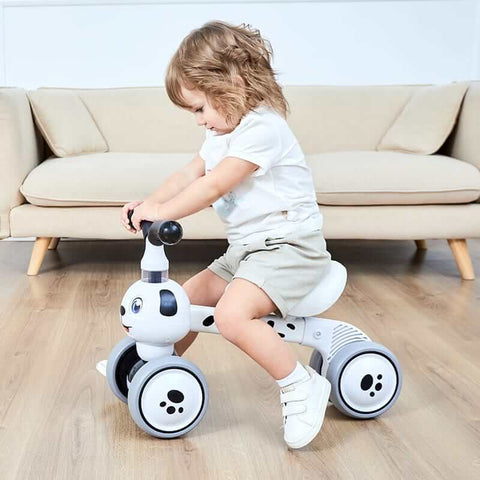 You can consider buying this balance bike for 1 2 3 4 year old. The dog design is impressive and can attract any toddler. If your little one has started walking and needs balance, you can get this one. It can be the best gift on her first birthday. Your baby will develop balance fast, and you will appreciate yourself for your contribution. In addition to the balance, the bike can help to walk, steer, and enjoy. With practice, your baby can confidently ride on the bike. Also, it is lightweight and weighs 3.5 pounds only.
When it comes to features, you can expect many kid-friendly additions. The handlebar of this bike has 135-degree steering. It will protect your baby from falling sideways. The bike has many safety features as well. We can take the example of non-vibration, non-slip, and wear resistance tires. The material of the toy bike is environmentally friendly. Also, your toddler can ride both indoors and outdoors. She will be more confident and can be more active. Both can help your baby to grow fast physically and mentally.
Pros
Fully enclosed wheels and no pedals to prevent injury

Limited degree rotation

Best for kids from one year to three years

Lightweight and compact

Safe material and sturdy construction

Impressive look and kid-friendly design

Fast assembly
3. Toddler Tricycle For 2-4 Years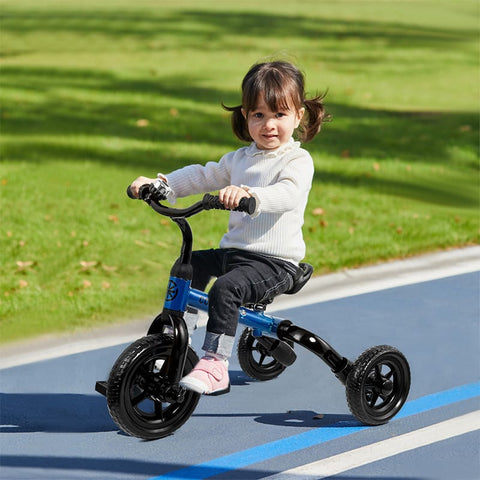 If you want the best baby ride on toys for 1 2 3 4 year old, you can consider this. It can be a perfect gift for any kid below four years old. You can get this bike for your toddler who needs to develop balance or for the one who wants to explore more with a ride. Also, the material is durable, and your toddlers can enjoy the fun for a few years. As it is suitable for up to four years old, your little one can ride this tricycle for a long time. You do not need to replace it soon. It features detachable pedals, an adjustable seat, and non-slip handlebars.
Additionally, there will be some self-balancing features. Therefore, you will not have to bother about safety. Your baby can put her feet on the ground whenever needed. That means she will not fall off while riding confidently. With confidence, babies can grow fast, and they can have better physical and mental growth. Also, it is available in red and blue colors. You can choose the favorite color of your baby. The maximum load capacity of this tricycle is 55lbs.
Pros
All-in-one solution for toddlers of different ages

Comfortable and safe riding

The foldable design ensures easy storage

Adjustable seat height

Five steps easy assembly
Conclusion
All these ride toys can help your baby to grow fast. In addition to the balance, you can expect many other benefits. Your little one will feel confident while managing her bike. You can also use these ride toys as a gift to impress any toddler on her first or second birthday. The toy bike will contribute to their physical and mental growth. Yes, it will create a base for future development. You can choose any of the above toys based on your preference. For example, if you want a riding toy that your baby can use for a few years, you can consider the tricycle. When the objective is to improve the balance, you can go with the balance bike. The balance dog bike can contribute to the overall growth of your toddler.