Baby Play Mat
Baby-proofing your home for first-time parents can be a stressful ordeal. With so many things to consider to keep newborn babies safe, one of the most important products is a padded play mat where your child can play safely on the floor of your home.

The new baby play mat from XIAPIA will provide a durable and sturdy play area thickened to over half an Inch. The mat measures 78x70 inches making ideal for family rooms, dens, or even a hard outdoor surface.

When shopping for baby accessories, parents pay close attention to safety features. And rightly so. The bottom of the mat is fashioned with a non-slip material which will prevent the mat from shifting on the floor as children play and gives parents peace of mind .

Pediatricians recommend tummy time for newborns within days of coming home from the hospital. Having a play mat such as this can help babies by providing a soft surface to practice raising their head and other skills to build strength that will eventually lead to sitting up, which is crucial to newborn development.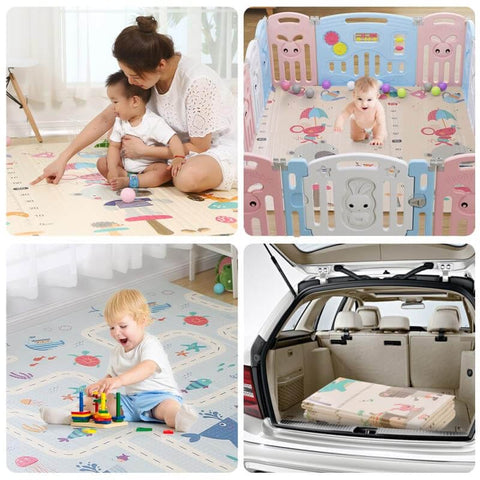 This kids playmate is so very easy to clean, too. Simply take a damp towel or disinfecting wipe to clean the surface. The durability means that this play mat is no match for any mess. And, when not in use, it can easily fold up and stored away in between play times or even placed in the trunk of a car to take along to friends and family.

Parents can choose from two fun mat designs: a pastel underwater ocean scene or a train set steaming through town on its way to its next delivery. Each design is sure to capture the imagination of children and help inspire their play activities while using the baby play mat.

Using this baby play mat, parents can introduce new toys, place an unbreakable mirror to show babies their appearance, or even "bench press" their babies while lying down to stimulate development and form bonds with their children. This play mat is also ideal should a parent set up a play gym where the baby lies on supine on their back and admires and grabs at the stimulating toys overhead.

The versatility of this mat sets it apart from the rest. Whether your baby is having a play date with another child or wants to relax and nap alone following a day of play and stimulation, this soft mat will provide a comfortable respite. Older babies and Toddlers can even interact by identifying the features on the mat such as the whales, fish, trains, buildings or vehicles.

Easy to clean, durable, soft, and portable- this is the ideal baby mat for parents of small children looking for a safe area to allow their children to play and explore their surroundings. As babies grow up, this mat will continue to serve as a crucial component of their development well into their toddler stages as a safe and familiar setting for some of their best memories with their families.