outdoor saucer swing
    What is the next best thing to having your own playground in your backyard? It is owning a safe and fun outdoor saucer swing. It's the swing every child dreams of swinging on in the safety of their own backyard. Mom and dad relax knowing their children are swinging on one of the safest products ever made.
Friendly Design & Safe
    Parent's have the security of knowing they can keep a watchful eye on their young children playing on state-of -the art outdoor saucer swings. What can be better than a child swinging back and forth touching the stars in their favorite outdoor saucer swing? This product guarantees your kids will have hours of clean and safe fun while parents can relax and have peace of mind knowing their children are out of harms way swinging..
    The swing is designed for the utmost safety of your child in mind and it is so safe your child can even bring his favorite pet aboard to swing. It's durable and made of upgraded rope with multiple braided ropes that can be secured safely to a tree. It has 4 durable ropes placed strategically on all four sides of the circular platform the children will actually sit in.
    The ropes can be adjusted from 40"to 70" to accommodate children from ages 2 years-old to 5 years-old which allows for flexibility to adjust the swing to the height according to the child's age. The younger children can enjoy swinging lower to the ground by adjusting the ropes to 70 inches. For the older thrill seeking children the ropes can be adjusted to 40 inches in height.
    The ropes are anchored securely to 4 solid hooks that will guarantee the ropes will not break so there is never the fear of the swing crashing to the ground.. The swing can hold up to 700lbs. allowing for multiple numbers of children to swing on the outdoor saucer swing at one time. It may even hold a few adults who may want to swing. Let it bring the child out in mom and dad.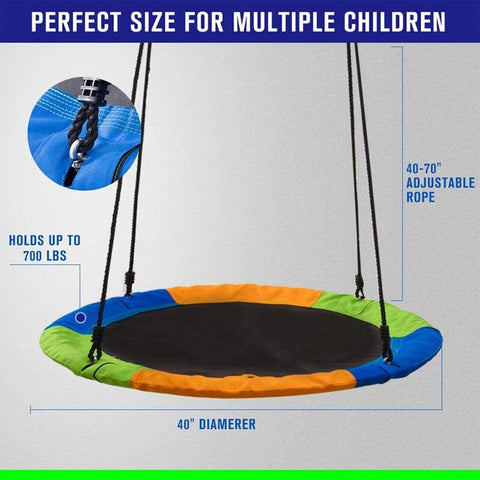 Large space
    The sitting platform is 40 inches wide assuring that children will not be too crowded sitting in the swing. This assures that there's safe spacing for each child sitting on the swing, The sitting platform is decorated with bright green, blue and orange colors

    The swing has anti-aging features that will guarantee it can be enjoyed for years to come so generations of kids can have a bundle of fun swinging on the outdoor saucer swing. It also stretches better and is more durable than any other swing of its type. It evens meets UV safety and testing standards.
    If a child desires to swing alone they can stretch out comfortably across the swing and enjoy a hot summer day staring up at the lazy clouds rolling by high in the sky. Or they can have the perfect nap time stretched out comfortably on their very own outdoor saucer swing.
Best toys & Best gift
    This is the best toy for kids.Buying the outdoor saucer swing will make trips to the playground a thing of the past. Your children will want to stay at home to swing on their very own outdoor saucer swing.also is best gift for Christmas, birthdays or other important holidays.
    For more product purchase information, please refer to outdoor saucer swing