Best Toddler Tricycle For 2 Year Old
Riding a toddler tricycle or bicycle at a very young age can be a fond memory that kids can look back into. But, for the creators of this machine and for the parents that buy it for their children, there is more to the activity of bicycle or tricycle riding than it seems.
From the most obvious reasons of engaging in a fun-filled activity, bicycle riding unleashes creativity and imagination, provides health benefits for exercising their muscles, and promotes a more active lifestyle.
Without even knowing it, this allows parents as well into introducing independence for them by allowing them to slowly gain their rhythm and traction while in motion with their bicycles. Tricycle activities for kids may seem to be just a pastime or hobby, but in time, they can understand what more it offers to the table.
The Principle of Riding a Toddler Tricycle
In a tricycle, there are 3 wheels as to just having two like that of a bicycle. With two wheels on the back and one on the front, anybody- even kids or toddlers can actually ride smoothly and safely as this type can secure balance more. This is essential as well when it comes to learning how to ride a bike because this lets toddlers continuously paddle on while until they get used to how they run the course with their tricycle and not so much on the maintaining of balance by putting their feet on the ground from time to time. The toddler tricycle focuses on mental development for a child in the sense of building confidence and independence and physical as well such as muscle development and body coordination that is fundamental in a child's growing years.
What safety measures must be considered when kids ride their tricycles or bicycle?
When riding bikes as a toddler, it is the parent's responsibility or guardian to educate them about the safety protocols. Apart from the manufacturer or creator's safety instructions, they are deemed to impart on the actual application of making this experience a positive one for them and not a traumatizing one so as to not affect them as they grow up. With the help of this product, it can make this experience appealing to the toddler and not appalling so that the child can look forward to this every time.
Here are a few simple tips about safety measures that a parent can apply when they go tricycle riding with their kids:
Educate the toddler- communicate what is right and wrong when going to ride their tricycle. Have them remember to follow the safety rules set when doing this activity.
Be ready with the right equipment- tricycles for certain ages are available to purchase and are ideal in their first experience, primarily based on how old the children using them are. Ergonomic features for the proper age, the distance of the pedals for the appropriate length of the child's legs to lessen the stress of wear and tear in pedaling, etc. Prepare the equipment needed when it comes to safety gear as well like: kneepads, elbow pads, and helmets.
Know the proper venue to bike in – for the most obvious reasons, a toddler riding a tricycle or bike in the middle of the road is a huge red flag and "no-no." Opt for parks or backyards and playgrounds that may end up a socializing activity for the toddler as well as they can meet more children their own age.
Make sure that the bicycle is in good condition- quality products of

 

toddler tricycles or bicycles

 

are readily available and should be more patronized when going through this critical moment in a child's life and learning process. Make sure it is equipped with bells, proper and ergonomic seating, durable tires, pedals, and chains that can withstand other uncontrolled factors that may negatively affect the bicycle itself.
How the toddler tricycle riding in kids benefit the parents
Through the years, parents have encouraged kids or toddlers to ride tricycles or bicycles. It is deemed to be beneficial for the parent as this practice enables kids to have characteristics they can impart to them through this fun activity. Toddler tricycle riding is now made beneficial for parents as well and not just for kids. Apart from instilling independence, confidence, and good balance and coordination to the children, Parents can now spend more time with their toddlers, and easily for some tricycles are convenient to bring along.
They can now introduce to their child personally the proper and correct way of learning how to use the correct equipment that is best suited with their child's age that can make the experience of riding a bicycle or tricycle a more appealing activity to the youngling.
Seeing a parent engaging in the proper and active lifestyle of bicycle or tricycle riding, children can easily imitate this example and engage in this activity as well. Incorporate in the learning process the introduction of ideal tricycles or bicycles best fit for every age and the features it has that is applicable as well can make the riding experience beneficial to the parent and the child.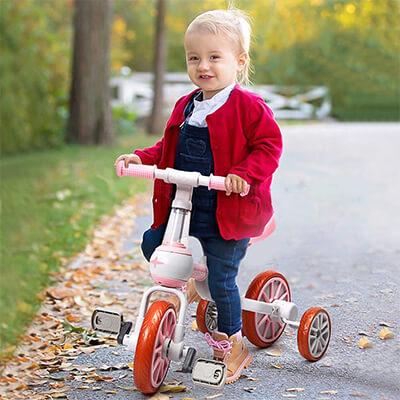 1. Toddler Balance Bike 1-4 Years
The Toddler Balance Bike 1-4 Years is a perfect ride-on toy that will teach your child to push with their feet while still maintaining balance when sited. It has an ergonomic seat designed to absorb shock even when riding on rough surfaces and readjust as the kid grows.
Features:
Detachable pedals to allow kids to learn balancing and steering skills
Adjustable seat height to allow use as the child grows
Detachable trainer wheels so the bike can quickly transform into a two-wheeled balance bike.
Anti-slip handlebars that fit seamlessly into kids' hands.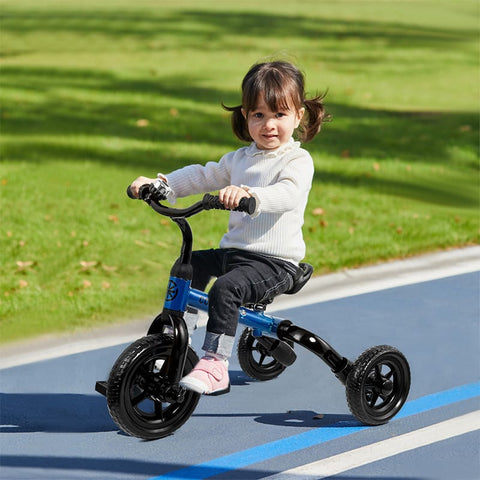 2. 3-in-1 Toddler Tricycle For 2-4 Years
    As it is suitable for up to four years old, your little one can ride this tricycle for a long time. You do not need to replace it soon. It features detachable pedals, an adjustable seat, and non-slip handlebars.
Features:
All-in-one solution for toddlers of different ages
Comfortable and safe riding
The foldable design ensures easy storage
Adjustable seat height
Five steps easy assembly

3. Toddler Bike Folding Trike 2-4 Years
    The 3 in 1 Toddler Bike Folding Trike is set up in a way that it can be used as a regular 2-wheeled bike with foot pedals for toddlers 24 months old and above, a pushbike for toddlers 18 months old and above, or a regular trike for toddlers six months old up to 18 months.
Features:
The body frame is made of durable carbon steel materials, the big wheels are sufficient to cope with various outdoor roads. 
Portable and Foldable