Birthday Gift for 2 Year Old
When it is about gifting ideas for your 2-year-old kids, you may go crazy with all the numerous options around. But making a decision on what is going to be the best for your kid may be a very difficult thing to do. From a wide range of products starting from soft toys, to dolls and indoor toys there a whole lot of things you can gift them. But there is no better option than gifting your kids with a real thing that they can take out and play with. As such something like a tricycle or a bike is always best in terms of a fun and exciting option for your kids.
In this piece, we will walk you through some of the best tricycles that you can present as birthday gift for 2 year old boy or girl child. We will talk about all the options one by one and discuss the various features for each of these tricycles so that you can take an informed decision to buy the best birthday gifts for 2 year old boy in your household.
Xiapia Tricycles and Balance Bikes – The Best Bikes for Your Kids
When it comes to self-balancing bikes for your little ones, there is no better option than the XIAPIA range of bikes. These bikes are excellent 2 year old boy birthday gifts. Even if you have a little girl, these bikes would be the best. Since they are self-balancing bikes, these are a safe option for both your boy and girl child.
But one point of argument is – there are so many companies out there. Why Buy Xiapia bikes? In the next section, we will discuss some of these bikes with their features to answer this question.
1.Toddler Tricycle – 3-in-1 for 2 to 4 year kids
These are one of the best tricycles that you can gift to you 2, 3, and 4-year-old kids. Whether it is a toddler who is learning to ride a bike for the first time, or your kid who is used to one of such bikes, this bike is certainly going to be a fun option for them.
Since these bikes are self-balanced bikes, your kids would not have to worry about putting their feet to the ground again and again. This means they can ride this tricycle safely without worrying about falling off. These bikes give your kids an initial sense of confidence, which is helpful for your child's overall mental and emotional development.
Key Features -
Designed for age groups 2 to 4 years.

Provides for a comfortable and Safe Riding experience.

Foldable design that makes it convenient for transportation and storage.

Comes with features such as adjustable seat, non-slip handlebar, and detachable pedals.

Comes with different modes – Pedal or Pedal-less mode, Balance-Bike-Mode etc.

Adjustable seat heights – 15.7 inches to 18.5 inches.

Great load capacity of up to 55 lbs.

EN71 Certified, ASTM F963-11, safety and quality tested and approved by US Lab.

Quick Assembly- 5 step, one person, no tools job done in 10 minutes.
With all these amazing features you cannot resist but order one for your kids. Go for it without any second thoughts.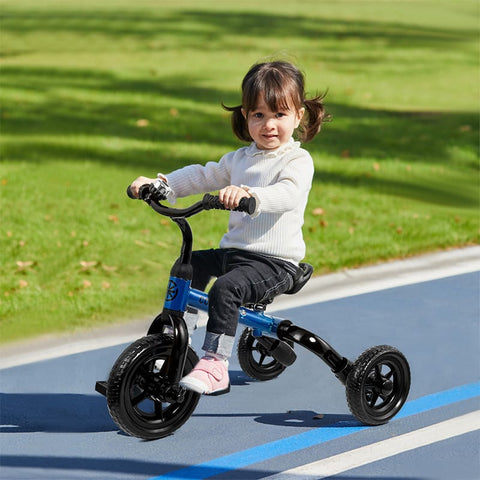 When it is about a fun little bike for your little one, this bike modeled with a dog-face can be a clear winner for your 1,2, or 3-year-old. This bike balance is apt for your kids who are learning to ride a bike for the very first time. These bikes are pedal-less and are designed to make it easy for your kids to step and balance as and when they need. As such these are safe and best bikes for your 1, 2. 3-year-old kids.
Key Features –
Pedal-less for your little ones to balance with their feet.
Wheels are fully enclosed to avoid pinching your baby's feet.
Rotation is limited to 135 degrees to avoid from falling.
Made from environment friendly EVA materials.
Sturdy and high durable carbon steel frame.
Appropriate for age groups between 10 to 36 months.
Passed certifications such as CPSC, ASTM and CE standards.
Easy Assembly options.
So, when it is about your tiny toddler, gift him or her this fun little bike that can help them learn to walk and get ready for the next level well.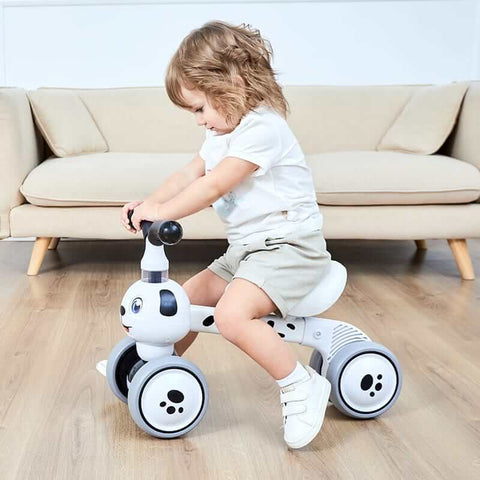 3. Three Wheels Bike for 1 to 4 year olds
These bikes come with peddles and that makes it ideal for your kids whether they are toddlers and 1 to 2-year-old or are of 3 or 4 years. These bikes can help your kids to learn riding a bike by balancing with their feet, or when they are a little older can be their favorite companions as they can peddle the bikes and ride around.
These bikes are perfect for your kids as they can be useful through their initial years in helping them learning riding, improve motor skills, and develop confidence.
Key Features –
Comes with a training mode for kids under 24 months.
Peddles are detachable for early cycling.
For older kids there is a balance biking mode as well.
Seat heights are adjustable.
U-shaped unique carbon steel made body for sturdiness and durability.
EVA Compliant wide and silent wheels that absorb shock easily.
Suitable for age groups from 1 to 4 years.
Comes with both Pedal and Pedal-less options.
Easy Assembly steps.
Has a great load bearing capacity of up to 70 lbs.
So, if you are looking for a bike that is versatile and can last for full 4 years and be a constant companion of your little kids, this is the one for you. So, go ahead and get this all-in-one bike for your kids birthday.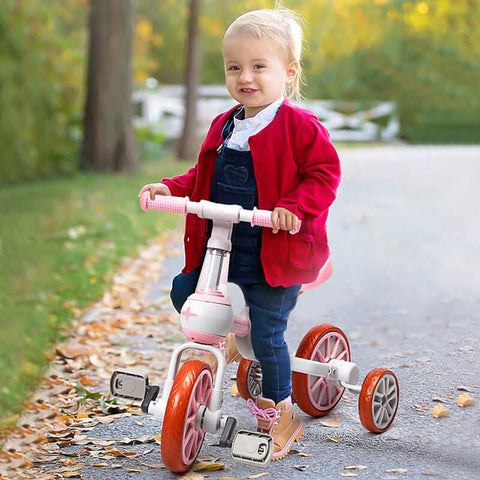 Final Thoughts
When it is about gifting something nice for a 2-year-old kid or a toddler, you need to be sure you are gifting something that is worth it and helps in your child's overall well-being. Gifting a tricycle/bike/bicycle is one of the best thing you can do that can help your child in developing and improving their motor skills as well as help them build some confidence.
But since it is about your kids, you have to ensure you always go for the best. There has to be no compromise in the quality and safety aspects and as such XIAPIA range of bikes are the best options for your kids. These bikes are not just bikes but would be your child's favorite companions.