12 Month Old Riding Toys
Children these days rarely go outside and play like we did when we were kids. In recent years, kids are bound inside their homes, and the COVID situation made the situation worse. However, as the threat of the pandemic has almost subsided, children should not live a home-bound life, and get out of their houses to have some connection with nature and physical activities. If you have kids, introduce them to the outdoor riding toys. Check out the benefits of riding toys for children and more in this article.
The benefits of riding toys for kids
There are several benefits of riding toys for children, let's check them out in brief points.
They learn coordination

- when your kid constantly pedals on the riding toy, they learn better coordination with their eyes and legs, and they will have more fun riding the toy bicycle.
Offers balance

- Toys like tricycles, 

balance bike for 1 year old

, and scooters need balance to ride them. Your kid will learn in a better way when you take them outside on the neighborhood roads, and even in your yard.
Better physical fitness

- Riding toys for kids offer better physical fitness. You won't have to urge them every day to do exercise but go for a bicycle ride. It will promote better fitness.
Increase self-confidence

- when your kid starts to ride the toy bicycle, they will gain more self-confidence. If you take your child to a park and let them ride there, they will meet other kids there, talk, and ride together. They will learn to follow instructions in a better way by riding toy bicycles.
Improves creativity

- Playing with a riding toy will make your kid not only smart but will also increase their creativity. They can opt for role-play games with other kids, and this will improve their imagination, which will help in their creativity too.
Why You Should Introduce Toy Rides to Your Kids?
The moment you introduce your 12 month old riding toys, they will have the best opportunity to have more fun. Also, they will have better motor skills, and they will have emotional and social development. Check out the top 4 toy rides we have mentioned here, and we have described the features of the rides too.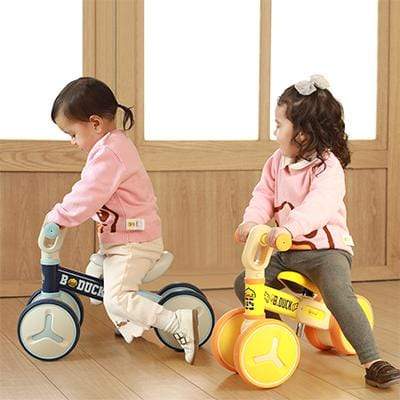 1. Baby Balance Bikes For 1-3 Years
If you learned to ride your bicycle in the 90s or the late 80s, you may have had a standard improvement. You may have had bruised knees, elbows, and even scratches on your chin. The two-wheeled bikes were menace motors. According to child doctors, children must learn to pedal properly, and only a bicycle can help them achieve balance, and it will help them walk too.
Compared to the previous bike types, in this twenty-first century, you will be amazed to see the development of special toy bikes for children. If you go for a Baby Balance Toddler Bicycle, your child will have better reflexes, and motor skills and they will gain improved balance on their tiny feet.
Your kids will learn bike riding at an early age, and pedal pushing will be easier. You just have to be there with your child while he or she rides the bike, and make sure they wear a helmet. You can opt for this colorful bike for your daughter or son, and they may enjoy riding at home or in your garden. The seat is adjustable, and the tires give the best support, so there will be no tipping incident.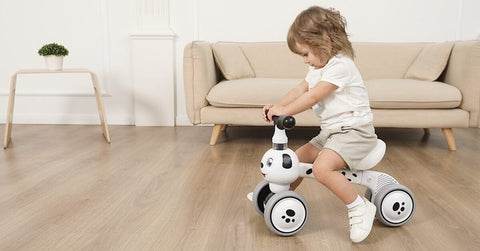 2. Balance Bike For 1-3 Years - Dog
If you want your kid to learn better motor skills, learn good coordination, and more, you can opt for Baby Balance Bicycle. This small and cute bicycle is for one to three years old kids. You can install the bike very easily, and it's BPA and LED-free. It will help your kid pedal as long as they want, and the bike will not go off balance. Your one to three years old kids can play with it and may have more fun while playing with their siblings or friends. The company offers a hundred percent tipping prevention feature, which makes it a safe choice for kids. However, you must stay with your kid when they rid of the bike because full-proof assumptions aren't ethical about a riding toy for kids. This is mostly because they are kids, and you never know where things go wrong and your child falls on the ground.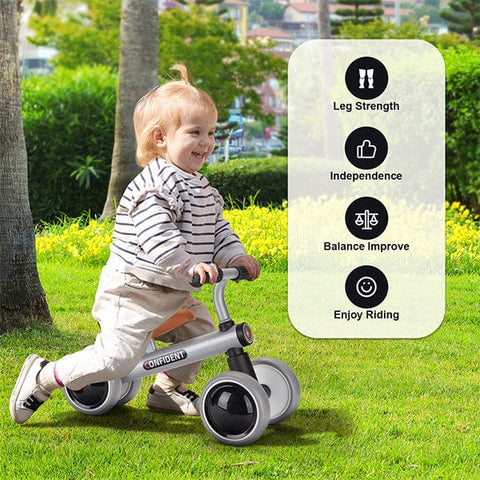 3. Baby Balance Bike For 12-36 Months
This toddler-riding bike is lightweight, only 3.9 lbs and your one to two years old kid can ride this bicycle. The bike is very sturdy, as it's made of steel. Your kid can ride the bike inside the house and it will leave no tire mark on your floor, you can also let your kid ride on your lawn, with your supervision. Make sure your kid is wearing a helmet while riding it on the lawn. However, you must not allow your kid to ride a bicycle on the busy street. You can install the bike easily, and it may take only two minutes to assemble the parts.
The bike is very strong, so your kid will not manage to break it, and your kid will have better self-confidence, develop balance and learn to walk too. You will get this cute bicycle in different colors like, red, pink, black, and blue.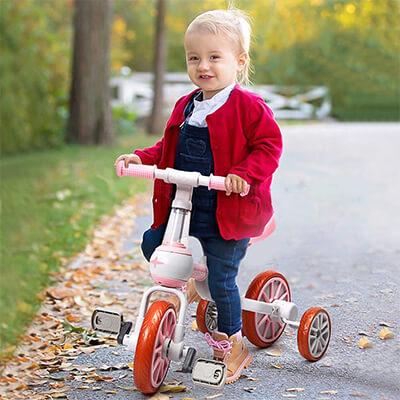 4. 3-in-1 Kids Tricycles For 1-4 Years
If you have one for a four-year-old kid at home, you can gift them this cute, pink bike. Without looking at the gender, you can offer this small Kids Tricycle Three in One to your child, so that they can have fun. The bike is very easy to install, and it comes in soothing colors like light pink and white. The back tire has supportive tires, so your child never goes out of balance. They can continue pedaling on uneven grounds, and they will not fall. The easy pedal system may help your kid get better motor skills and more.
Bottom Line
You will find toy riding bikes to be very simple, as they offer better benefits to your child's growth. Also, your kid will stay occupied with this toy bike. So, let's check out the toy riding bikes from this article, and you will find the one suitable for your kid.