Perfect Gifts for 3 Year Old Boys or Girls
Cycling is fun, there's no doubt about it. And when you're a parent, you will certainly want to share the fun with your children. Toddlers, in particular, can have their own way of having fun on a bike.
Balance bikes for toddlers are good choices if you consider giving Christmas gifts for 3 year old boys or girls. Here are some recommended products you can buy right now.
This tricycle is suitable for toddlers aged 2 to 5 years, who needs balance more than anything when it comes to cycling. The bike is designed to be self-balanced, ensuring that the user doesn't need to put their feet down over and over again to avoid falling off.
In other words, your kids can ride the 3-in-1 tricycle safely and you can see them doing it with peace of mind. The bike is designed to help your kids building the initial stage of self-confidence, which is great for their future mental growth.
The 3-in-1 tricycle is built with toddlers in mind, which is why it's compatible with different ages and comfortable to ride anytime your boy or girl want to cycle. It can be folded to make it easy to store and carry everywhere. The bike also features anti-slip handlebars, an adjustable saddle and removable pedal.
Kids from 2 to 5 years old can ride this bike comfortably. There's a pedal or pedalless tricycle-mode that is suitable for toddlers from 18 to 24 months old, in addition to a balance mode for children from 2 to 5 years old.
With an adjustable seat, the 3-in-1 toddler tricycle can accommodate different heights during the growth of your children. It's capable of loading up to 55 lbs. The bike comes with ASTM F963-11, EN71 certification and has received a US lab approval. Last but not least, it's easy to assemble in minutes; requiring no tool and no more than one person to finish the job.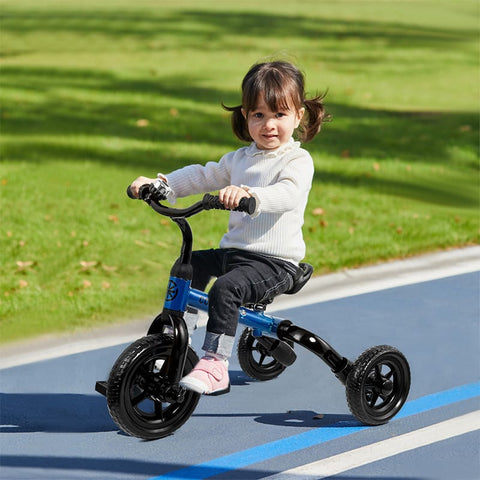 The 3-in-1 Kids Tricycle is a perfect pick for children between 1 and 4 years old. This bike will help them learn to push with their feet and remain in balance at the same time when on ride.
Its seat is ergonomically designed for maximum shock absorption even during a ride over rough surfaces. It can also be readjusted when needed.
The balance bike features low seating and step height that is perfect for 1 to 4 years old toddlers. It's delivered in an eye-catching box to make it an amazing Christmas gifts for 3 year old boys or girls.
As one of the best balance bikes for toddlers, the tricycle packs training wheels mode for children younger than 2 years, as well as balance bike mode for 2 to 4 years old kids, a removable pedal and adjustable seat height.
The distinctive U-shape carbon steel frame is equipped with compression damping, which can achieve optimal shock absorption when combined with EVA widened noiseless wheels.
The 3-in-1 tricycle can be used with pedal or no pedal for kids 10 to 24 months old. It also has non-slip handlebars, removable training wheels and pedals, and an adjustable saddle. Kids 2 to 4 years old can use the training wheel mode for utmost balance. This bike requires assembly and can load up to 70 pounds.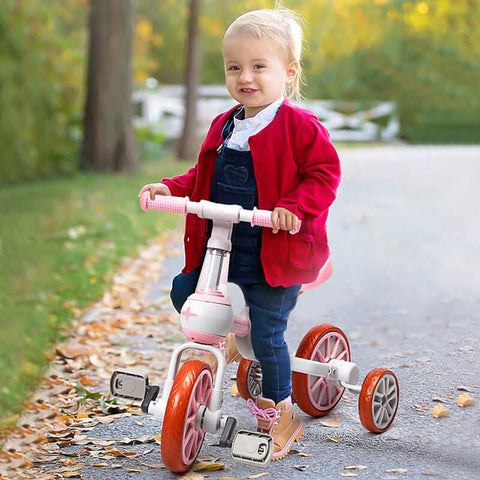 If you're looking for great Christmas gifts for 3 year old babies, look no further than this kids balance bike. It's an excellent choice for children who learn to cycle for the first time.
They can ride it while putting their feet down to keep their balance on it. At the same time, this is good for training their confidence in riding a bicycle.
While sporting a durable, high-quality metal frame, the bike is very lightweight and user-friendly. It loads up to 77 lbs and sits on a pair of non-pneumatic tires that won't go flat. The seat can be adjusted from 13.8" to 17.8".
Thanks to its sturdy carbon-steel body, this kids balance bike can be a long-lasting baby toy for 2 to 5 year old kids. To complement the aforementioned features, the bike has also been certified to ASTM F963-11, EN71 and has received a US Lab approval.