Montessori Toys For 1-3 Year Old Baby
Hey parents! You know that your baby is growing up fast, right? We are sure you want to give them the best of everything so they'll have a good start in life. But what can you do with a one-year-old? The truth is, it's not always easy to find the perfect first birthday gift for a baby – something they'll enjoy and learn from at this age. Well, look no further because we have just the thing for you - Montessori toys for 1 year olds!
Why Montessori Toys For 1 Year Old Baby?
Montessori toys are educational tools for children made from natural materials such as wood, soft rubber, fuzzy felt, or even cloth, making them durable and safe for kids to play with. These toys help improve fine motor skills, cognitive development, and sensory integration in children who are learning how to play. They are designed specifically for children aged one to three years old to help them learn about colors, shapes, and numbers even before they go to school.
Montessori toys encourage increased parent-child interaction, making them some of the best gifts for 1 year old girls and boys. Parents can learn about their child's emotional needs, thought processes , cognitive development, speech development , and physical growth by playing together. Besides, most of these toys are simple to hold and manipulate, giving the child the opportunity to work independently at their own pace and develop their creativity, interest, and imagination so they can learn to solve problems on their own.
The Best Montessori Toys for 1 Year Old Baby
The best Montessori toys for 1-year-olds should inspire a child's imagination and keep them interested and engaged. They should be easy to use, free of distractions, and inspired by the less-is-more Montessori approach. If you are looking for the best gifts for 1 year old girls and boys, these highly-rated toys are a perfect choice for you!
·
Wooden Activity Cube Montessori Toys
This simple yet highly intriguing Montessori toy has different unique sides with various activities that will keep your little one entertained all day! They'll learn about colors, counting, and matching as they play with this fun toy. This toy is light and easy to carry, so your kid can have fun wherever they are. It also has an ideal height that allows babies and toddlers to enjoy playing without getting tired. The Wooden Stacking Puzzle is a must-have for your one-year-old!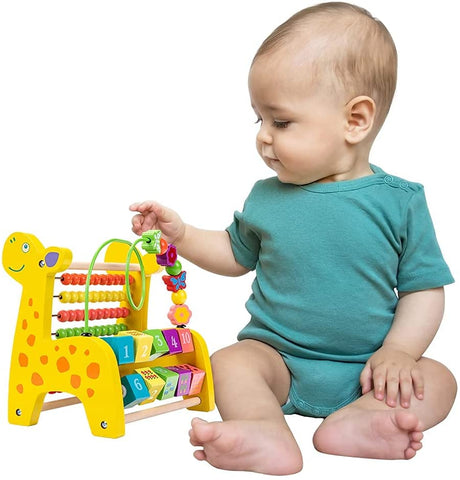 ·
Wooden stacking puzzle toy
If you are looking for a really interactive Montessori toy, this wooden stacking puzzle toy is a great choice. It features ten wooden blocks of different colors and shapes that can be matched into different intuitive designs – from modeling real-life situations to setting the stage for imaginative play.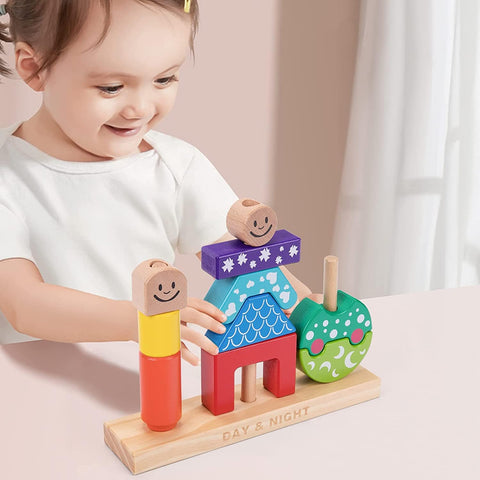 Our Take
These two Montessori toys can be used by kids who are already learning how to hold objects properly because of the size, weight, grip, and coordination required. They have fantastic activities that are challenging enough to stimulate your baby's brain development while giving them pure fun at the same time! Browse our catalog for more Montessori products for 1-3 year olds - we have everything you need!