Best Gifts For 1 Year Olds
    When it comes to presents, many 1-year-olds aren't picky. In fact, they may be as excited by the packaging as they are by what's inside. Others have already begun to develop their own unique preferences, personalities, and abilities. By the right toys and gifts, you can set your child up for years of fun.

Features
    This high-quality gift set box surprises your child and allows him to spend his time productively for extended periods of time. The inclusion of a ball drop game and a color matching game in this bundle increases the gift's attractiveness even further. Other majorly appealing aspects for the child are the carrot sorting game and the coin drop game. The puzzle game for kids is fascinating and mind-boggling.
Benefits
    The unique 4 Montessori Toys in 1 Set not only entertains the child, but also aids in the development of his motor skills, hand-eye coordination, and color identification. This is a two-in-one gift package that will both educate and delight a child. The child may touch and learn about the items in the present, gaining new knowledge in his life. This gift set fosters critical thinking and problem-solving abilities in children.
    This is an excellent present for your children, such as a nephew, niece, or godchild. You may give this gift to your child to keep them happy and occupied for a long time. This great baby birthday gift bundle is inexpensive, reasonable, and, most importantly, non-toxic. The product quality is excellent for all children. Because the toy is made of BPA-free and lead-free materials, children may play with it without worry. Another benefit of the present is that the child can simply utilize it by gripping the components tightly.
    The product is incredibly smooth for babies to handle and has no harsh edges. Each component of the box is nicely polished and available in the exact size to meet the customer's needs. You do not worry when your kid plays with this product because it has no chock-hazard.

    Compare to the old balance bikes for 1 year olds, this one is fully upgraded with a larger size, an adjustable seat and a non-slip handlebar that can't be bite off. The cute looking and metallic feeling is even more attractive to toddlers. Great gift choice for babies who are learning balancing, cycling and running.

    Suitable for 1-3 years old kids. Upgrade with a larger size, an adjustable seat, and a non-slip handlebar that can't be bitten off. The new appearance with lovely & colorful pattern is more attractive to children.
Benefits
    Regular bikes require a child to master several skills including, balancing, pedaling, steering, and braking. Fortunately, balance bikes don't have conventional pedals available in regular bikes. This means that to "ride it," your child uses their feet to push themselves along the ground. Without the need to pedal the bike, your kid will quickly learn how to balance themselves.

    When learned, that knack of keeping the bike upright and leaning into corners is easily transferred into a regular bike when they've built up their confidence.
    Do you need an educational toy for your one-year-old newborn boy? If so, the Montessori puzzle sorting st game kit is designed specifically for children aged five and four. Even the play toy is beneficial to children aged two or three. This is a fantastic present for your preschool child's skill development. This shark theme educational toy is a one-of-a-kind product that will meet your children's needs. This item is constructed of both plastic and wood.
    This wooden educational toy not only entertains children but also allows them to study and enhance their talents. The toy improves motor skills and sorting abilities. It is a high-quality substance that poses no risk to the playing equipment. The product's safe materials meet the fundamental needs of children.
Benefits
    To ensure children's safety, the product's blocks are manufactured of harmless materials and painted with water-based paint. Because the product is BPA-free, your children may safely play with it. The smooth surface and nontoxic properties further improve the quality. However, direct sunlight exposure may be avoided.
    The main advantage of this wooden toy is that children may learn to distinguish the shape and size of various colored blocks. As a result, they will be able to return them to the base. Your child may simply sort out hand-eye coordination and shape identification by utilizing the device. Another advantage of the substance is the development of dexterity.
    This gift package is a high-quality item for preschool toddlers. Many children are drawn to this entertaining game and brightly colored present. Kids will certainly play with the item for several hours.
    This engaging present toy set meets your one-year-old child's specific needs and desires. Aside from the safety and time pass features, this gift set is one-of-a-kind and distinctive model that will really benefit your child. Your child may study and play at the same time. As a result, this gift set is timeless and perfect in every way. When you approach a business with high hopes and desires, it will not escape your notice.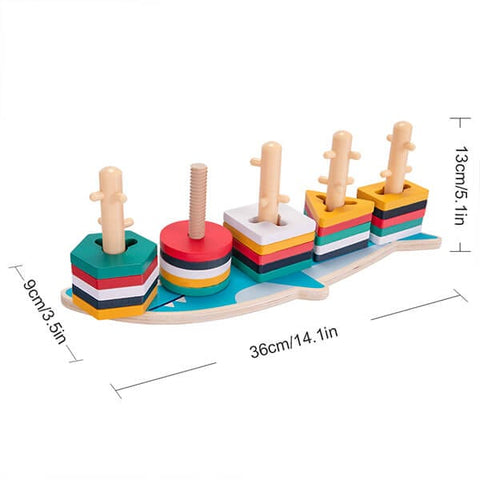 The sensory toy package satisfies your need for an exceptional gift for a one-year-old child. This is a one-of-a-kind gift package for your one-year-old boy or girl. With softballs and blocks, the baby shape toy sorting bin present is lovely. The toy provides your child with a lot of fun and activities to do. This toy will thrill your child while also improving his fine motor abilities. It is a good and high-demanding present for your children.
Benefits
    The present comprises thirteen parts with various attractions and easy-to-use features. Because the present toy is non-toxic, your child may play with it without difficulty. The sensory bin helps children improve their abilities by using blocks. By playing, the children learn to respond. The softballs in the gift set include colors and textures that the child can recognize.
    The frame of the box and the other twelve balls are made of ABS plastic material, which makes the kids playing status excellent and nonharmful. Lead-free and BPA-free toy materials further increase your children's safety.
    The elastic bands of toys, particularly blocks and balls, help your children develop thinking and problem-solving abilities. Playing with toys helps the child's fine motor abilities.
    It is assured that your kid, one or two years old enjoys the toy in both indoor and outdoor activities. It is a great toy in a trip condition too. The toys' perfect size and shape entice kids to play without any hesitation happily.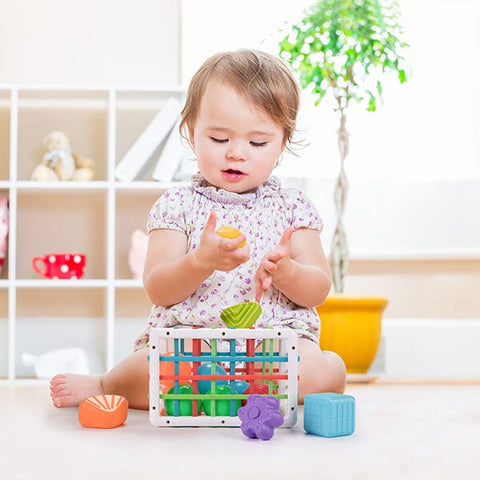 Conclusion
    This present is lightweight and simple to use for children all over the world. In a nutshell, this present toy allows children to enjoy the following advantages:
    Color and Shape Recognition
    Problem Solving Skills
    Tactile Exploration